I have one of the original MA-010 chassis that came out in November of 2005 and finally got around to rebuilding and upgrading.
I already have an MR-02 Hammer Team Racing Enzo so I thought it would be cool to follow the theme with a MA-010 Hammer Team Racing Enzo AWD version so my new chassis is 98mm in length.
I have been using 2mm Stainless Steel Hex Head Machine Screws to assemble all of my chassis now and I like them a lot, the hex head makes them very easy to remove and replace without stripping. I started with a new chassis for a couple of reasons, however, my main goal was I wanted to be tapping the new 2mm machine screws into fresh plastic, which makes a huge difference, if you use a machine screw in the same location after the stock self tapping screws have been used, structural integrity will be compromised and stripping the plastic, over time, is inevitable. If you screw these 2mm Stainless Steel Hex Head Machine Screws into a fresh chassis, they can be removed and replaced many times and remain structurally sound.
I really wanted to try the Atomic SAS System and I decided on the non metal Atomic Ball Diffs with the Thrust Ball Bearing upgrade.
I've been very happy with the quality of PN Racing alloy parts for the MR-02 and MR-01.5, so I'm using PN parts where applicable, I'll explain as I go along.
It's taken me quite awhile to complete this project as I've been really busy with work. I know most of this general information has been covered in this forum, that's mostly how I decided what parts to use. I took pics as I went so I could document the process from beginning to end.
First the original chassis disassembled, lots of parts.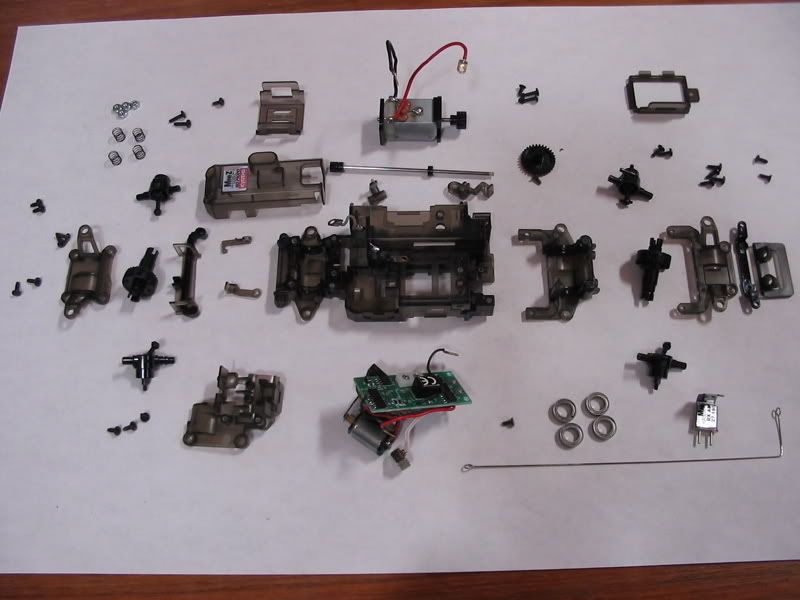 The new chassis on the top and the original chassis on the bottom for comparison.
The Atomic Ball Diffs need to be taken apart to install the Thrust Ball Bearings this is a pic of one ball diff disassembled and the other reassembled with the Thrust Ball Bearing upgrade.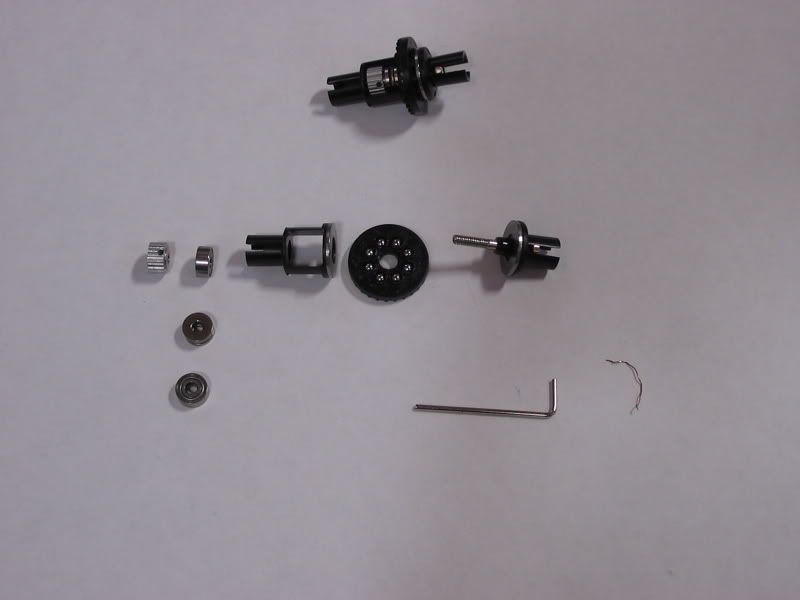 I used the Atomic Titanium Light Weight central shaft set along with the PN Alloy Center Shaft Mount Set and 3Racing Bearings to install the center shaft and front Atomic Ball Diff, this of course has to be done with installation of the PCB, servo and gears.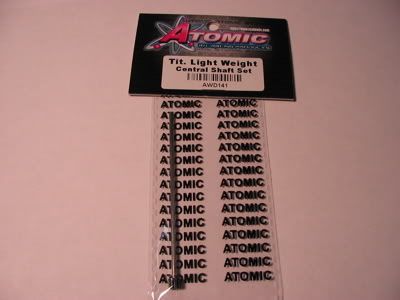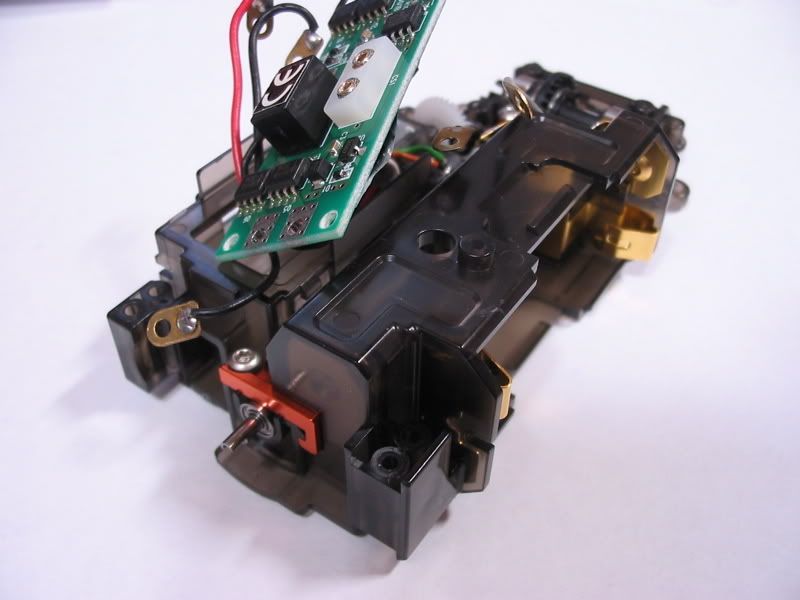 Once the center shaft is installed the servo cover can be put in place and the wiring connecting the chassis and PCB can be finished before the PCB cover is test fitted.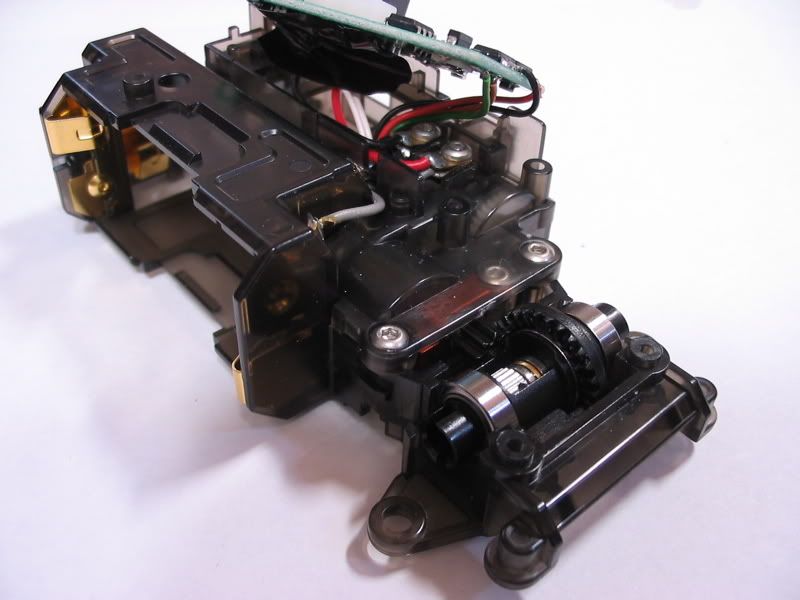 The Atomic SAS System appears to have very many parts to begin with, however taken piece by piece isn't that bad. As recommended in the SAS setup thread I assembled the SAS with 1 degree toe in, 2 degree camber and orange springs. The SAS parts laid out with the bagged extras above.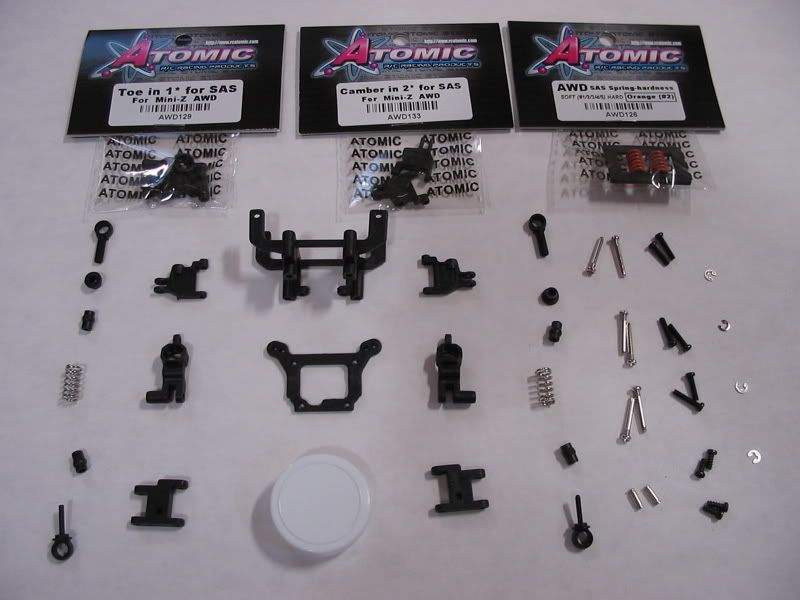 The SAS assembled without bearings and out drives.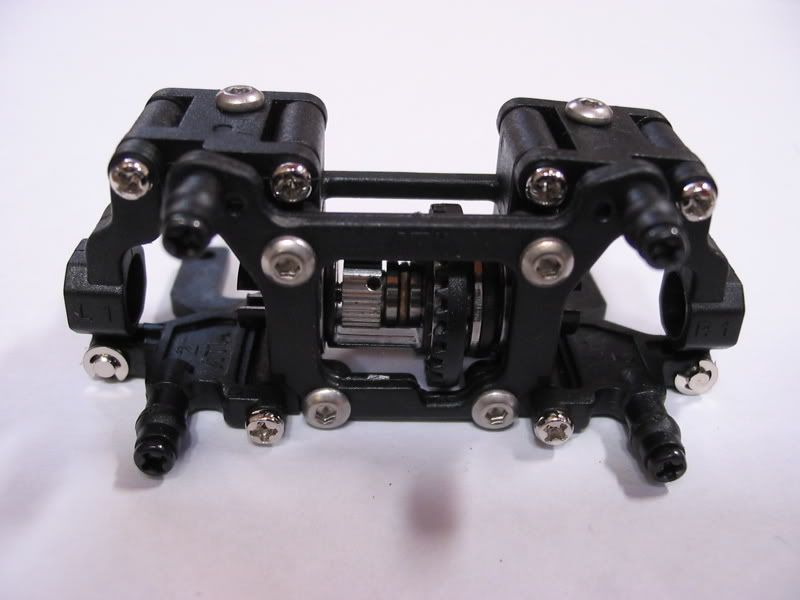 I used Atomic Titanium out drives, very nice.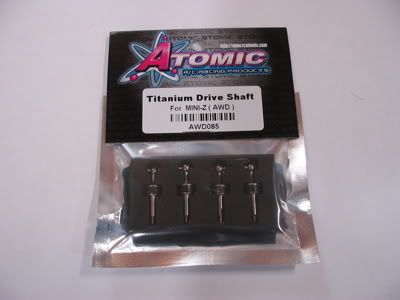 The SAS with out drives and bearings and below the SAS with shocks and springs.
The chassis with the SAS installed using the PN 98mm extension kit, Kyosho Z Speed motor installed and the PCB cover on for a test fit.
Now a few shots of the finished chassis, I really like the way it turned out.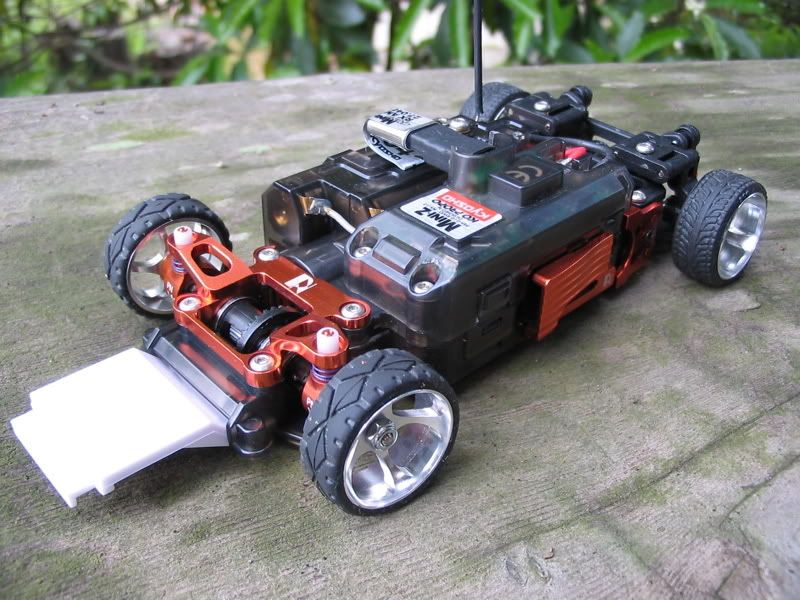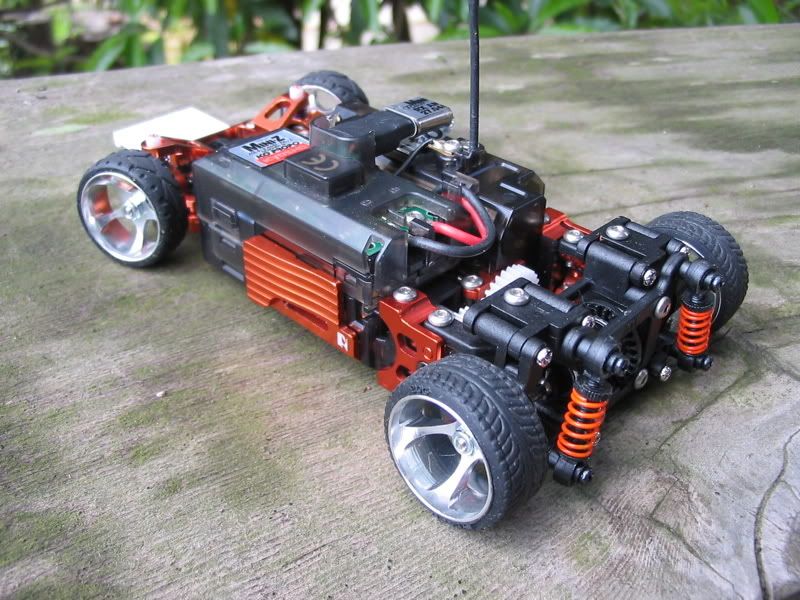 I used PN's alloy Front Cover, 1.5 degree Front Knuckles, 0 degree toe in Tie Rod, AWD Lowdown Spring and Spacer Set to adjust proper riding height for the Enzo.
A quick look at the bottom, the new PN motor cover really helps with dissipating heat and a profile.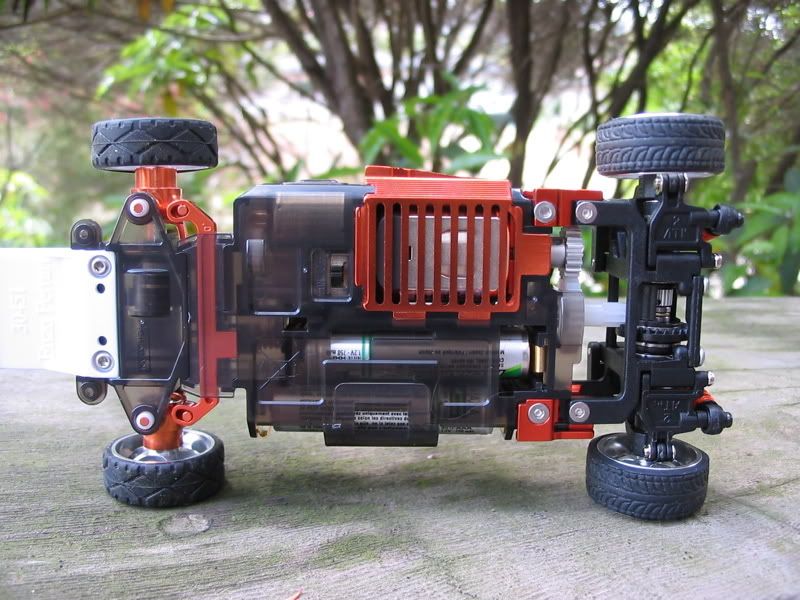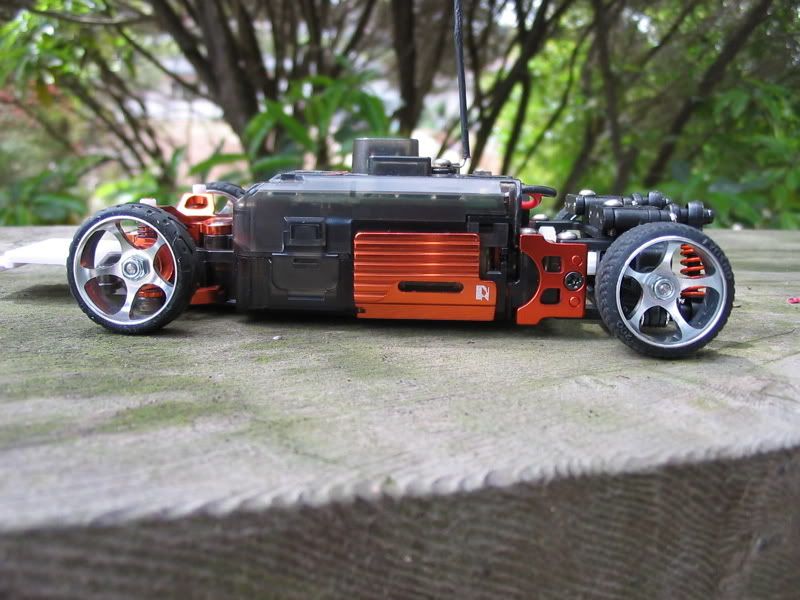 Finally my red Enzo body installed.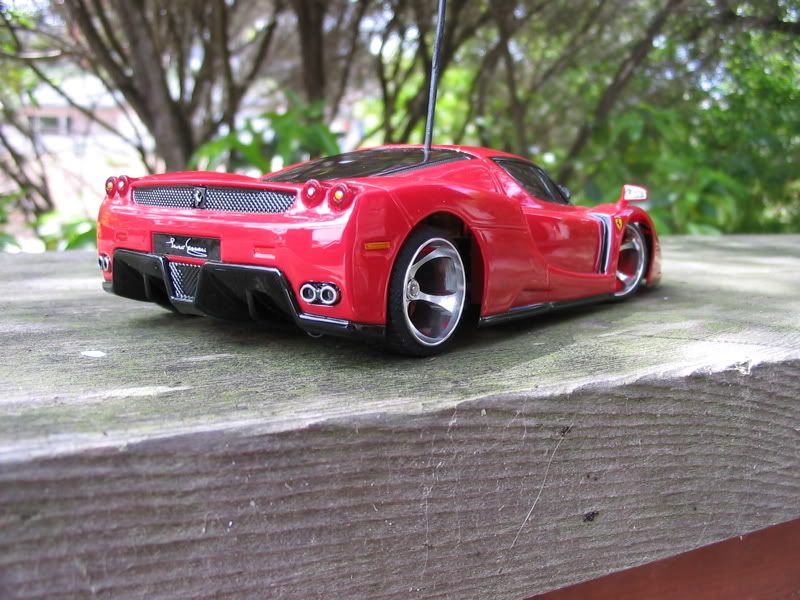 I have an unpainted Enzo body on order and hopefully, I'll be painting a AWD version on the order of my
MR-02 Hammer Team Racing Enzo
soon.
Here's a Parts List: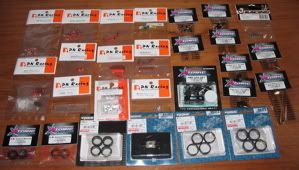 Kyosho:
MDW002 X Speed V Motor MA-010
MDF 001SG SP Skeleton Chassis Set MA-010
MZW30-20 Mini-Z Radial Tire (11mm) 20º
Atomic:
AWD080 Ball Diff. x 2
AWD109 Thrust Ball Bearing x 2
AWD141 Titanium Light Weight Central Shaft Set
AWD085 Titanium Universal Swing Shaft Set
AWD128 AWD SAS Set
AWD129 1º Toe In for SAS
AWD133 2º Camber for SAS
AWD126 Orange Springs #2 for SAS
AR142 Mini-Z A.W. Groove Tire (8.5mm) 30º
PN Racing:
MA0126 Alloy Center Shaft Mount Set
MA0118-19 Alloy Hard Coated Pinion Gear 19T
MA0104 Alloy Pro Front Upper Cover
MA0106-15 Alloy Knuckles 1.5º Camber
MA010700 Alloy Tie Rod 0º
MA0109 Low-Down Spring Set
700406 Low-Down Shim Set
MA0117 Wheel Base Extension Kit
MA0112-2 Alloy Motor Holder (A2, B2)
MA0129 Alloy Pro Motor Heat Sink Cover
MA0182-Enzo Light Star Alloy Wheel Set for MA-010
3Racing:
AWD-20 Upgrade Ball Bearing Set (10 pcs.)
Miscellaneous:
2x4mm Stainless Steel Button Head Hex Screws
2x6mm Stainless Steel Button Head Hex Screws
2x4mm Stainless Steel Countersink Hex Screws
2x6mm Stainless Steel Countersink Hex Screws
2mm Alloy Lock Nuts